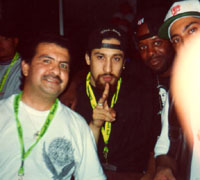 Riding on a Cloud of Smoke (Summer of 1991) by:Rocketron
See Video 128 kbs
I met Cypress Hill back in the day when a dime was a dime and two cargo vans and a U-Haul truck was the tour caravan. At the time that I met Cypress Hill, "How Could I Just Kill a Man" was being bombarded with much controversy by both the media and music industry alike because of lyrics like "Hanging out the window with my magnum taking out some putos acting kind of loco I'm just another local Kid from the street getting paid from my vocals Here is something you can't understand
How I could just kill a man".
Walking into the interview in Cypress Hill's hotel room, I was met with a cloud of creativity and a smell of relaxation, I knew this was going to be a great interview. It was apparent from the start that there was something different, the aura the vibe was strong and now history shows "The Hill" was something special.
Comprised of outstanding rap lyricist DeeJay Mastermixing Muggs (A.K.A. DJ Muggs) from NYC, B-Real and Sen-Dog from east L.A.; Cypress Hill is a power Latin hip-hop trio in the music industry.
To my amigos, May the power of the Aztec gods be with you.
Always,
Rocketron